Tower Bolt Fancy Xylo Type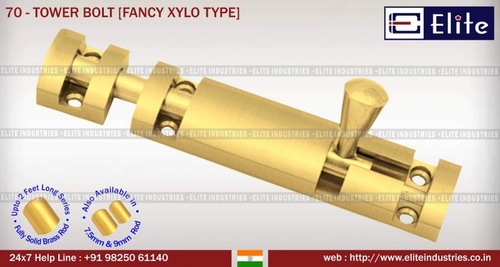 Tower Bolt Fancy Xylo Type
Product Description
ABOUT ELITE

THE ELITE INDUSTRIES, since 1971, our goal is to develop close & long-term relationships with our customers and providing innovative solutions that improve product reliability and enhance the OEM [Original Equipment Manufacturer] brand value.

PRODUCT

DESCRIPTION

Made available by us is an impeccable assortment of Product, which is highly acclaimed by the clients for its elegant designs and enticing appearances. These products are manufactured using quality assured raw material procured from trusted market vendor, further more widely used with all type of swings. Our range is available at various dimensions and sizes. Our Products are:

Made from Pure Solid Brass.

Various Decorative Designs & Finishing.

Life Long Lasting.

Corrosion Free.

MATERIAL

BRASS

BRAND

ELITE

DRAWING

On Request

PHOTO

Available

FITTING MANUAL

MADE IN (ORIGIN)

INDIA

QUALITY

Light Commercial, Medium Economic, Deluxe Heavy, Premium Export

USAGE

PACKING

Each Pcs. Packed in Printed LDPE [Low density polyethylene] bag, in box with complete detailed label [Barcode Label if Required] & ready for export in Heavy Duty Water Proof Corrugated Cartons or wooden crate as per customers requirement.

Note: Packing should be done as per customer's requirement and demand in quantity order. PVC Blister or One Pcs. Packing should be done upon request. Barcode or QR Code labeling facility available on demand.

DELIVERY TIME

Depend on order quantity, Maximum 30 Days.

PAYMNET TERMS

T/T, L/C, Escrow, D/P

SEND THROUGH

Courier, Transport, Air, Shipment etc. as per requirement.

RATE

All rates are subject to confirmation.

All given rates are subject to

JAMNAGAR

[

Gujarat

,

India

] only.

Packing & Forwarding, Shipment, and Govt. Taxes should be charged extra.

FOB, CNF or CIF Rates are subject to confirmation.

REMARKS

In case of any Dispute Subject to

JAMNAGAR

JUSTRITIAL ONLY.

50%

payment of the order in advance along with the order.

Supplied complete with accurate fixing screws, wiser, packing etc. etc. if required.

FINISHINGS

BP - Buff Polished

CP - Chrome Polished

BO - Black Oxadize

CO - Copper Oxadize

FL - Foretic Lacquer

CL - Clear Lacquer

SL - Satin Lacquer

SS - S. S. Finish

SC - Steel Chrome

BA - Brass Antique

CA - Copper Antique

MS - Matt Silver

DG - Die Gold

MG - Matt Gold

RG - Real Gold

Note: Finishing samples are for representational only and may slightly very with different monitors and original Finishing. Special finishes available upon request.